In the university network (JU MC, JU), just go to the EMBASE website.
---
How to use Embase remotely:
1. Go to the EMBASE website.
2. Click the Check access button.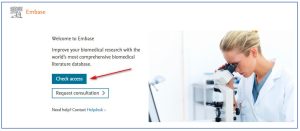 3. Enter your e-mail address in the @uj.edu.pl domain in the Find your institution window. Choose the name of the institution Jagiellonian University Medical College Faculty of Medicine from the list and confirm the selection.
IMPORTANT!
To use this method, you must have an active ELSEVIER account. You can use an existing profile on other ELSEVIER services (e.g. Mendeley, Scopus or ScienceDirect).